The artists invited to perform at the gala dinner Wednesday evening for the economic leaders of the Asia-Pacific Economic Cooperation (APEC) were among the country's best.
That is, according to musician and events/concert director Paolo Valenciano, who mounted Wednesday evening's program at the welcome reception at the Mall of Asia Arena in Pasay City.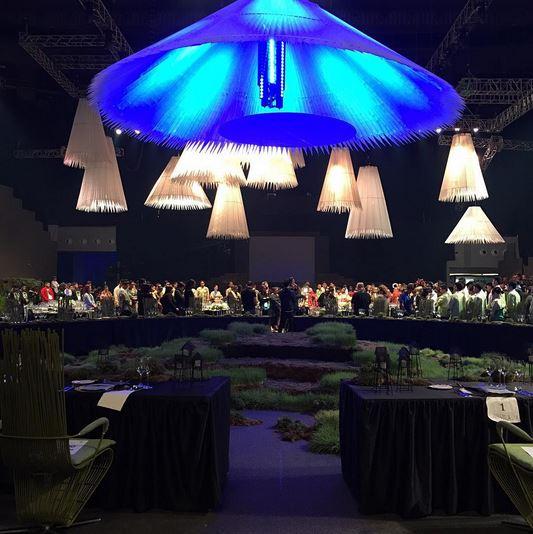 In this photo posted by Kenneth Cobonpue on his Instagram account Wednesday, singer Gary Valenciano leads the people who worked behind the scenes in prayer before the dinner.
"It didn't matter if they were super-famous or not. The most important thing for us was that they were the best in the country—talents we could show off to the entire world," he said.
The performers included international stars such as Jessica Sanchez, apl.de.ap, Charice, Jed Madela, Arnel Pineda, classical pianist Cecile Licad and El Gamma Penumbra.
But Paolo and his team also tapped Manobo kid Reynan Dal-anay, the Philippine Madrigal Singers, the Ramon Obusan Folkloric Group, the Buganda Drumbeaters, Douglas Nierras' Powerdance, and the Makiling Ensemble to perform before the economic leaders.
The show concluded with a duet by Gary Valenciano, Paolo's dad, and Martin Nievera. "Seeing all the artists together was the most fulfilling thing…To see this many people representing our country and do what they do best—it's just such an amazing feeling, and it's so exciting," Paolo said.
Dance choreographer Nierras also led in organizing the event. Louie Ocampo served as musical director, while Paolo's mother-in-law Gina Godinez was in charge of the creative concept.
"The show is a good collaboration between veterans and rookies… not only in terms of the singers, but even the musicians [and] production," Paolo said.
"The fact that they got me [to direct], that they're putting a lot of trust in me—that shows you that these people are very collaborative. They're very open to new ideas, and they really let us…work as equals," he added.
The reception also shone a spotlight on the work of other distinguished Filipinos.
The 21 APEC economic leaders and their spouses as well as observer Colombia Pres. Juan Manuel Santos and his wife Maria Murena arrived at the Mall of Asia Arena in custom-made traditional Filipino wear designed by Paul Cabral: barong tagalog for the gentlemen and piña jackets for the ladies.
Cebu-based industrial designer Kenneth Cobonpue was in charge of transforming the arena into a garden-like dinner hall fit for the leaders and their spouses.
He also created brass sculptures called "Sama-sama" as official presidential tokens for the guests.
Meanwhile, chef Margarita Fores and restaurateur Glenda Barreto prepared a multi-course meal for the world leaders. The menu included ensalada tagala with duck estofado, tinola, inasal na apahap, bistek Manilenya, and maja blanca–all of them served with an artisitic twist. — Trisha Macas/BM, GMA News